The Transformational Story
Rebellious, fiercely independent, confident, vibrant, burning with a passion to do something defined Suhani as a teenager. They still define her. However, time and experience have channelized them towards the greater good of the community. It was at the tender age of 13 when the foundation for a financially independent person with a strong desire to make a difference was laid.
Read More
Suhani's father always objected to her outgoing nature. But Suhani's temperament couldn't be contained within restrictive walls. Her inner creativity found solace in dance and music. Be it, girls or boys, Suhani made friends with everyone easily. Against the wishes of her father, the individual budding within Suhani was taking an utterly different course. Perhaps those were the early signs of a social activist who would never stop standing for what she felt right.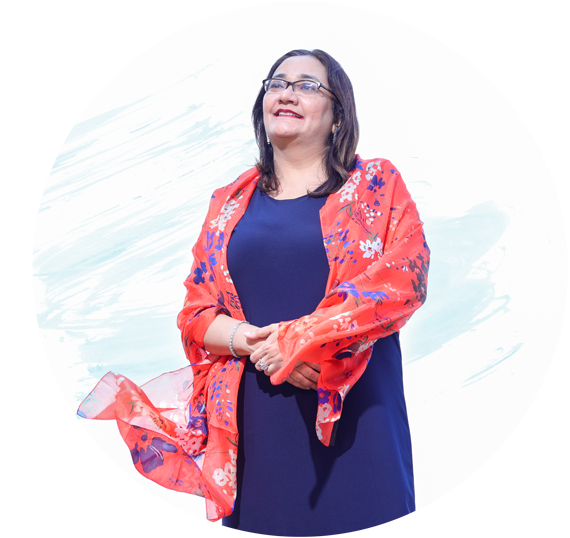 Suhani's little heart was impacted by things she observed around her. It solidified her urge to be independent along with creating an empathetic corner for the needs of others. At the age of 15, Suhani had the grit to break all norms of an extremely orthodox Gujarati middle-class family. Against her father's wishes, Suhani started making her own living.
Suhani's work exposure between 15 and 22 years of age covered almost all kinds of odd jobs that helped her earn. She never said no to an opportunity. She was hungry for work, for experience, and to explore the world. It was this wide experience that helped her later in all her roles as a social activist, mentor, and guide.
Read More
Her first means of earning was by being a 'mehendi' artist. It was followed by being the first clown of Mumbai. She entertained children at birthday parties, compared shows, worked as a singer and choreographer, gave private tuitions, and did backstage jobs at fashion shows and numerous marketing jobs including market surveys. Her marketing experience included door to door marketing and selling products at petrol pumps, ladies' cigarettes outside clubs, and various products at traffic signals. These early experiences were unknowingly transforming her into the entrepreneur she is today.
She came across all kinds of people – rude ones slamming the door at her face and even extremely kind ones. Each incident was a lifetime experience. Nothing could deter the strong-headed young lady from achieving her goal. Going up to different people, talking to them, and selling was a challenge in itself. All she told herself was, "At the most people will say no. So why not give it a try"? The reflections of those days, interestingly, fuel her current work as a fundraiser.
Read More
Suhani marketed products starting from FMCG products, hotel properties, Dhara oil, electronics, new equities to many more. Be it home products, a TV magnascope, or chocolates, she was ever ready to experiment. Suhani and a group of girls launched 'CELLO Thermoware', where instead of saying "Hello", you should say "CELLO" and win a Thermoware sample, absolutely free. She got all these assignments through a firm called SAMIR. She also got her one and only boyfriend Vivek his first job and on many occasions, they worked together. Suhani's work gave her the opportunity to interact with various high-profile people too. While working part-time as a salesperson at a furnishing store, she had the fortune of serving Mrs. Kokilaben (wife of Late Dhirubhai Ambani) as her client. Also, working backstage in a fashion show, she had her first stint with glamour and met models like Arjun Rampal and Meher Jessia.
It was a phase of invaluable learning. It step by step built the young girl into a strong and fearless lady ready to face any challenge.
Blend them together for a self-transformation.
It's easier than you think! Try it!
Blend them together for a self-transformation.
It's easier than you think! Try it!